Overview
You spoke and we listened! You can now design and purchase your badges online!

NameBadges.com is the ecommerce site for the Cawley Company. We took our top-selling products and made them available online in a quicker shipping format, allowing customers to upload their logos and design badges online in a streamlined manner. From our classic beveled metal badges to plastic, wood, chalkboard, and more, it's all available. 
We pride ourselves in having a diverse range of customers in just about every industry, some of our key industries include: retail, hospitality, gaming, country clubs, cruise, amusement and water parks, catering, education, military, homes for the aging, food service, convenience stores, grocery, ski, healthcare, resort development, parking, concessionaires, pizza, and more. Through the years we have learned that different industries have different requirements. Meeting the needs of this diverse group of partners drives us to diversify our product line and create new and exciting products!
If your company requires more one-on-one guidance, customized design service, or are interested in corporate information and pricing, contact us at 1-877-822-3437, and we will put you in touch with one of our Account Sales Representatives.
 
Mission and Values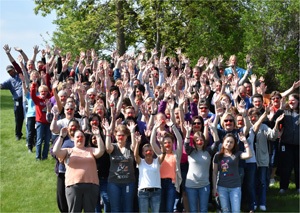 For more than 30 years, The Cawley Company has been a leader in the name badge industry. Our identification and recognition solutions along with our expertise have helped thousands of companies put a name to the faces of their employees. Our product line has changed tremendously over the years, but our mission has remained the same: to give our customers the best in customer service, best product, and best value, meet their expectations, and strive to exceed them.

Listening to our customers has provided a springboard from which many of our new products have been designed. Listening, designing, and then creating. We continue to invest in new equipment and technology to address our customer's needs and stay ahead of the curve in our business. We welcome and produce small and large orders, and produce them efficiently. From our creative department designing the products, to pre-production samples, to printing, die cutting, personalizing, fulfillment, and inventory, we do it all!
Our mission to listen to our customers has led us to our online badge designer and our ecommerce website.  We plan to continue to add to the offerings available online as we expand our Cawley Family of products!
 
Employees
Among our strengths is an employee-friendly workplace. Our employees are craftsmen and craftswomen. We are proud of what we accomplish together and as individuals. Our people, no doubt, are the reason Cawley products enjoy a worldwide reputation for quality and service.

We are fortunate that we seldom need to advertise for help because our employees are our best recruiters! When we do have jobs to fill, we'll post openings and position descriptions on the job opportunities page.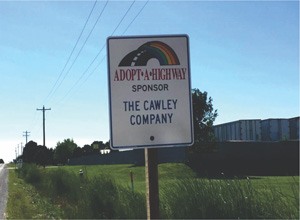 Community Conscience
The Cawley Company is very community-driven and supports and participates in numerous local causes and organizations, such as the American Red Cross, the American Heart Association, The Capitol Civic Centre, YMCA, Adopt-A-Highway, local sport teams, fundraisers, and many more.
Safety and Health
A safe, healthy workplace is everyone's responsibility. Cawley believes that most accidents are preventable, and the best prevention comes from our employees.

We demonstrate commitment to safety and health by providing our employees, and visitors with a safe and healthful work environment.
Measure and track environmental and safety performance
Recognize environmental and safety performance with incentives for employees
Investigate all incidents to prevent reoccurrence and fully determine root cause
Promote health, environment, and safety with an onsite fitness facility
Certified CPR-trained employees and required up-to-date first aid training
Health and wellness committee
Gym reimbursement program
Health incentive programs and contests
Flu Shots, tobacco cessation rewards, nutrition, and wellness classes
Equipment
Our goal is to realistically manufacturer the full life cycle of the product because this is best for our customers. Doing so helps us control costs, maintain flexibility, and deliver swiftly. From design, production, assembly, and packaging—we pride ourselves on seeing it through from beginning to end.

Some of the equipment used includes: thermal printers, rotary engravers, laser engravers, sublimation printers and presses, UV printers, hot stampers, shears, digital presses, collators, mag stripers, laminators, robotic assembly, punch presses, shears, press brakes, high die cutters, and more.

 
Press
Announcing Namebadges.com (August 2020)
New Product Releases (September 2021)