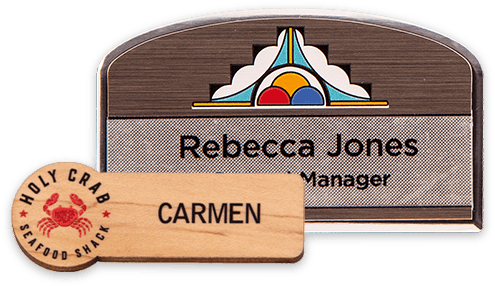 Professional-looking name badges encourage communication between your employees and your customers and serve as a branding opportunity. Our outside-the-box designer shapes are perfect for businesses that want a little more personality in their name badges—including name badges shaped like breadloaves and televisions or rectangles with domed tops or sides.
Let us personalize your badges for you
, or personalize them yourself using a do-it-yourself method, which includes the Overlay Print System (labels), Direct Print System (digital print), or Write On System (markers). Our badges are made in the USA.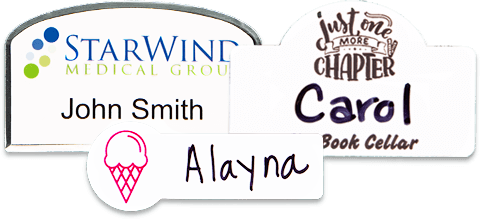 Unique Shapes with Endless Possibilities
From unique television shapes to breadbox and other designs, our designer shapes can help you craft a badge that captures your business's personality, fits your branding needs, and gives you all the space you need for names, taglines, logos, and more!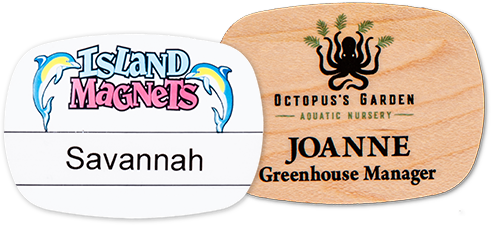 Get the Details Right
The logo, names, titles, and other text on your designer name badges can be laser-engraved or UV-printed in full color. Specialty-shape badges can have a variety of backings, including our popular magnetic fasteners, and can come in one of our standard sizes or a size custom to your needs.
Shop Specialty-Shape Name Badges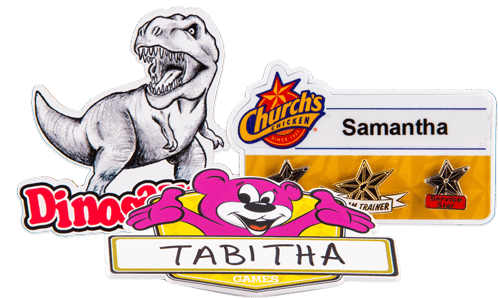 Let Us Custom Design Badges for You
Let our team of creative designers help you craft a name badge that is one-of-a-kind and will communicate your brand in style. We will work with you to bring your idea to life and design the best identification solution for your business.
Work with an Artist